EVENT DATE
September 24, 2021
GOLF COURSE
Bull Creek Golf Course
7333 Lynch Road, Columbus, GA 31820
Columbus, GA
ENTRY PRICE
Contact Event for Price
SHARE TOURNEY
More Event Information
Keep Columbus Georgia Beautiful Commission is a 501c3. Our vision is to move towards a greener, cleaner, more sustainable Columbus!
First, I would like to express my gratitude for your support. Keep Columbus Georgia Beautiful Commission relies on our community contributions, and we have been grateful to you, our friends, and neighbors for your incredible support as we continue to pursue our mission.
Keep Columbus Georgia Beautiful' s mission is to engage and educate individuals to take greater responsibility for enhancing beautification, protecting the environment, and eliminating litter and blight.
Our mission is simple, help educate and advocate for cleaner communities. Your continued support allowed us to expand our Peachy Clean & Green Columbus Campaign, provide educational programs and resources to the schools, as well as host clean up events such as Help-the-Hooch.
Litter has become an overwhelming issue in our city! The need for litter advocacy is at an all time high. But we can not do it alone. Having your support to continue our programs is crucial.
Therefore, it is so important for you to support our annual golf tournament. Keep Columbus Georgia Beautiful Commission is seeking sponsors for our fundraising tournament, and we are asking you consider donating this year either as a sponsor, golf team player, or in-kind donor. On September 24th, our non-profit will host our annual golf tournament to raise funds for our Outreach, Cleanup Events, Research, and Education programs. We are seeking your support to help with our fundraising goal of $25,000. We believe you can help make this happen! You may choose from one of the three requests below:
1. Sign up a GOLF TEAM to participate in our golf tournament to be held on September 24, 2021, at 10 am located at Bull Creek Golf Course. See the attached flyer for more details or visit www.columbusga.gov/keepcolsbeautiful events page and print out our registration form.
2. You may become a SPONSOR for our golf tournament and have your name or business name on a sign during the event. (See the attached sponsor form for details)
3. Donate GIFT CERTIFICATES or miscellaneous items that may be used as door prizes for our raffle drawing that will be held on the day of the event.
Thank you in advance for your consideration and support! Please forward our information to your family, friends, other community partners.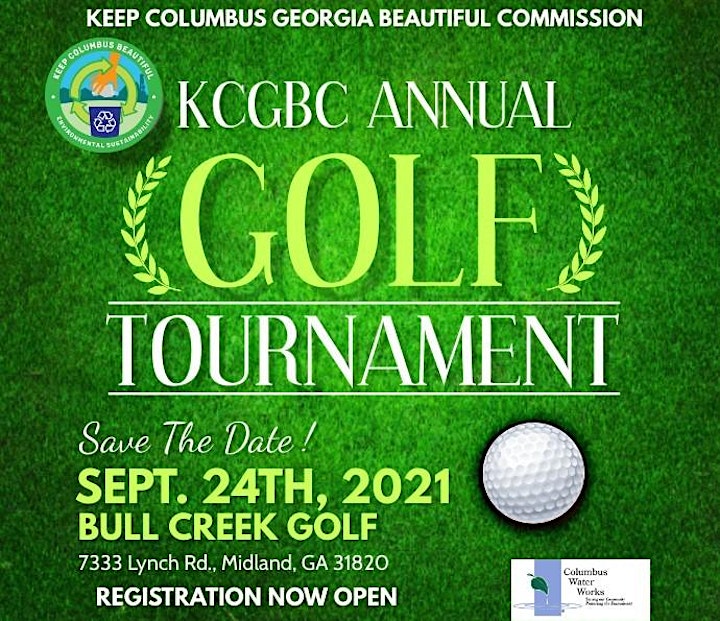 Registration Info
SHARE TOURNEY