EVENT DATE
September 10, 2021
This Event Has Passed
GOLF COURSE
Fox Lake Country Club
7220 N. State Park Road, Fox Lake, IL 60020
Fox Lake, IL
ENTRY PRICE
Contact Event for Price
SHARE TOURNEY
More Event Information
SAVE THE DATE! 2021 Lindenhurst Charitable Golf Event is Friday, September 10th at the Fox Lake Country Club, 7220 N. State Park Road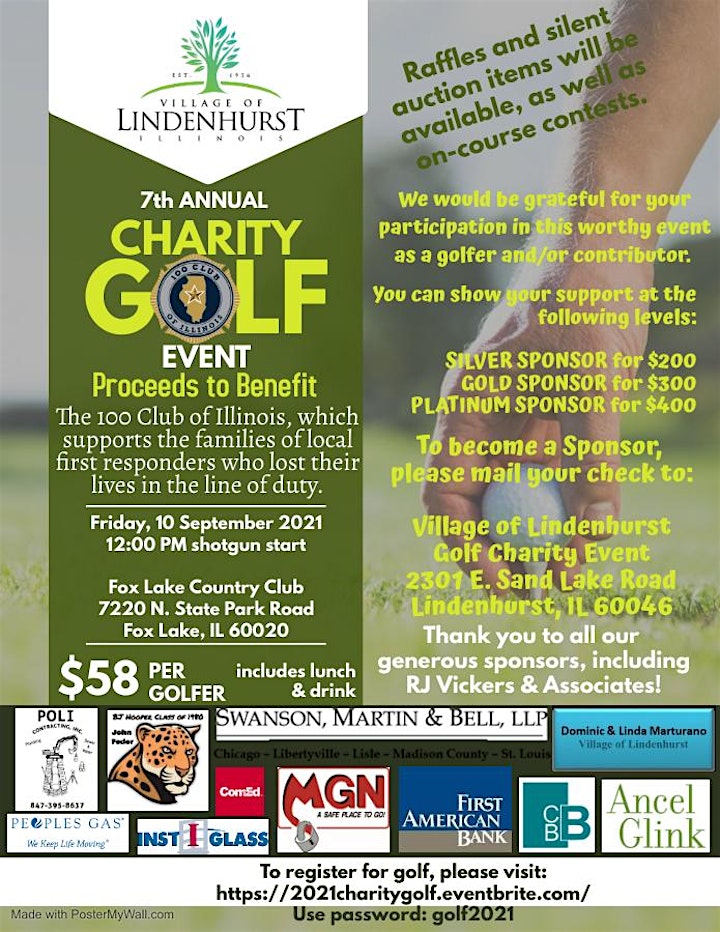 Twenty years ago, we memorialized those that perished on September 11, 2001. We were attacked on our own soil. As these horrific events unfolded, firefighters, police officers, city workers, business people, and many others from various occupations perished. Three thousand sons and daughters, husbands and wives, boyfriends and girlfriends, family members, friends −perished− touching on so many lives. A nation cried together, mourning the deaths of these innocent people.
Today we laugh and play, and go on with our daily routines as we recover as a nation. We do so, not to disgrace those that were killed, but to show those that think they can break us that we are resilient. We will not back down or be broken. We stand together and rally around one another in times of such tragedy.
As a way of representing this camaraderie, the Village of Lindenhurst Charitable Golf Invitational was born. Our 7th Annual Charity Golf Event will be held at 12:00 PM, on Friday, September 10th at the Fox Lake Country Club. The proceeds of this charity event will benefit The 100 Club of Illinois― an organization which supports families of our local first responders who were killed in the line of duty.
We would be grateful for your participation in this worthy event as a golfer and/or contributor. You can show your support at the following levels:
• $58 ticket for golf w/ cart, lunch & drink (1 player)
SILVER SPONSOR for $200
GOLD SPONSOR for $300
PLATINUM SPONSOR for $400
To order golf tickets, please click on the Eventbrite link https://2021charitygolf.eventbrite.com. The password is golf2021.
For sponsorship, please mail your check to:
Village of Lindenhurst
Golf Charity Event
2301 E. Sand Lake Road
Lindenhurst, IL 60046-8017
Thank you for your time and generosity. We hope to see you there!
Respectfully,
The Village of Lindenhurst Charity Golf Committee
Registration Info
SHARE TOURNEY
Event is passed so you may not contact this event coordinator.