SUMMARY
The Candace Golf Classic is a Unspecified format golf tournament. It is located at Windstone Golf Club in the fine city of Ringgold, GA. The event is set to play on August 16, 2022. MORE INFO
EVENT DATE
August 16, 2022
This Event Has Passed
GOLF COURSE
Windstone Golf Club
9230 Windstone Drive, Ringgold, GA 30736
Ringgold, GA
ENTRY PRICE
Contact Event for Price
SHARE TOURNEY
More Event Information
The 22nd Annual Candace Golf Classic presented by the National Coalition of 100 Black Women, (NCBW) Chattanooga Chapter, Inc.
The National Coalition of 100 Black Women, Chattanooga Chapter, Inc. (NCBW) is celebrating its 22nd year of sponsoring a first class, fun-filled golf tournament for enthusiastic golfers throughout Chattanooga and the surrounding area.
Your support of our fundraising events enable us to continue programs designed to further our mission. We would be honored to collaborate with your company as we impact our community. There are several sponsorship opportunities available and we would be grateful if you would consider partnering with us.
Tournament day, Tuesday, August 16, 2022 at Windstone Golf Course, will feature a shot gun start at 1:00 p.m., a putting contest, longest drive competition and other hole prizes. There will be three (3) flights with First and Second Place winners in each flight. Lunch and dinner will be provided for all participants, with the fun-filled day ending with door prizes and an Awards Ceremony.
Please visit our website www.ncbw-chattanooga.org for more information about our organization. You may also contact our Tournament Director, Gloria McKeldin, at Contact event using the form below. or by phone at 423-316-9008 for additional information on the tournament or sponsorships.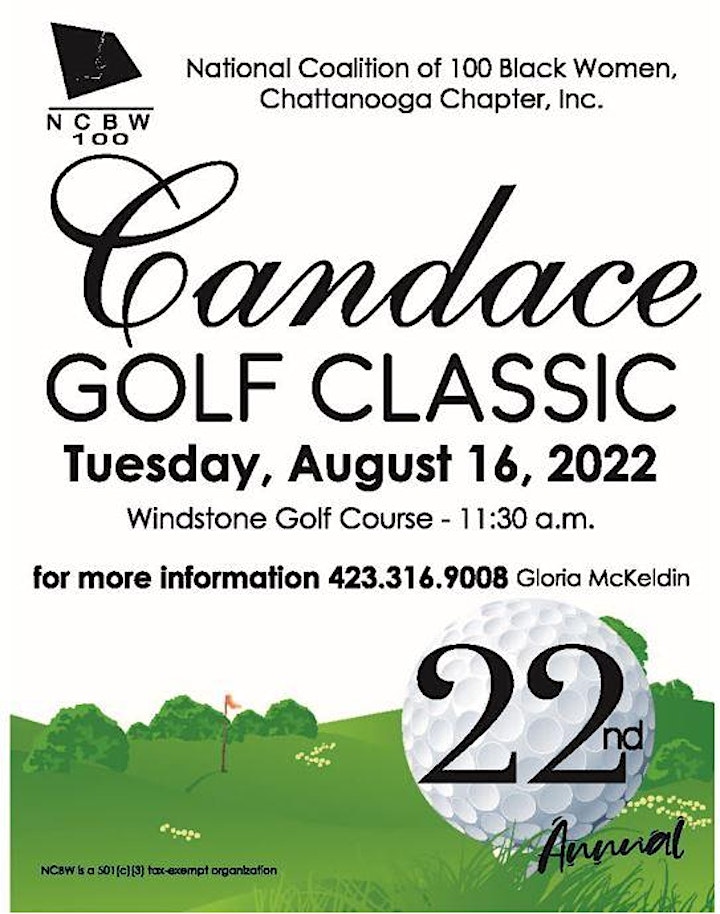 Registration Info
This event does not utilize the GolfTourney Platform to Register their event participants. Feel free to use the contact form at the bottom of this page or find the event coordinators contact info in the More Event Information section and give them a call.
SHARE TOURNEY
Event is passed so you may not contact this event coordinator.