EVENT DATE
September 13, 2021
This Event Has Passed
GOLF COURSE
Mountain Branch
1827 Mountain Road, Joppatowne, MD 21085
Joppatowne, MD
ENTRY PRICE
Contact Event for Price
SHARE TOURNEY
More Event Information
Come Play Golf with us! Join us for a fun day and after Par-Tee for a great cause, St. Francis Neighborhood Center!
Join us for a day of fun in the sun!
Come Play with us! On Monday, September 13, join us for a fun day for a great cause (kids!) at the beautiful Mountain Branch Golf Course.
Golf Invitational Details:
Gather your foursome and practice your swings!!
The tournament includes: Captain's Choice, Individual & group games, lunch & on-course, and refreshments.
Multiple ticket options are available on the website!
After Par-Tee Details:
The night includes: dinner, dancing with DJ TNT, drinks, wine & bourbon tasting, live music, live auction, and the Ravens game on the BIG SCREEN!
Multiple ticket options are available on the website!
Special guests include MC reporter Mike Schuh, keynote speakers Zayon (a Center student), and Lydell Mitchell (former NFL Baltimore Colt), live piano with the infamous and amazing Ryan Shookman.
This fundraiser will support St. Francis Neighborhood Center to build a transformational adjustable space that can accommodate larger activities and gatherings such as, yoga, exercise, safety classes; or, become an indoor play area, recreation space, or separated into small group spaces. We are also adding on two more classrooms which will move us from 75 to 200 children to be served. Youth have waited 3 years to attend Center programming due to lack of safe space. Now, we can make it happen!The Center is known for our successful youth holistic intervention programs for children living in poverty in West Baltimore. Support these life changing programs today. The end of generational poverty begins here.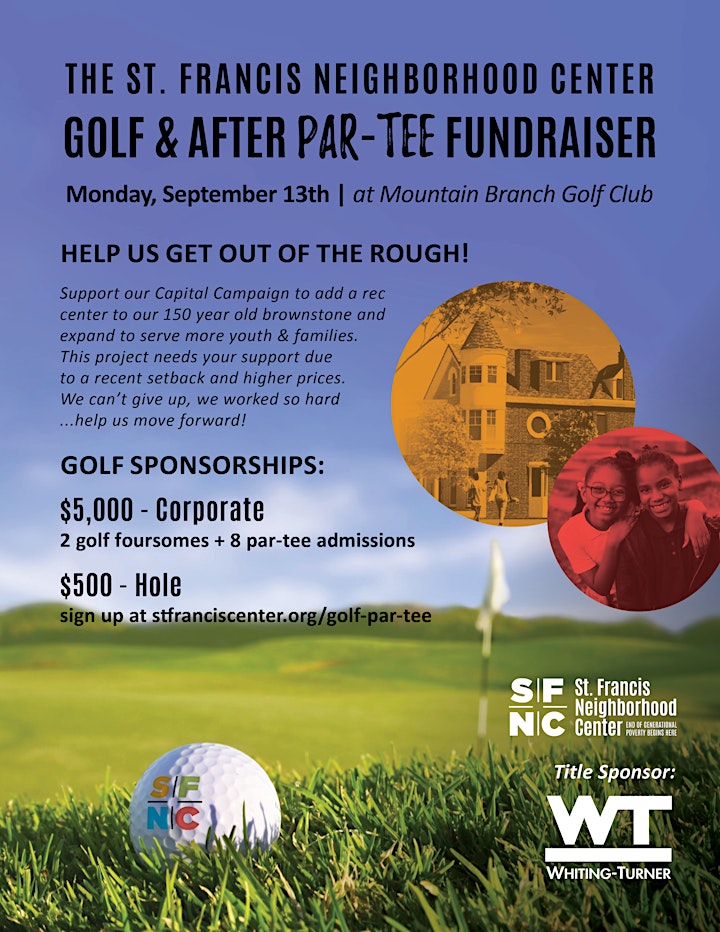 For multiple ticket options and sponsorship opportunites visit the website—
Not a golfer? You can just join the after Par-Tee—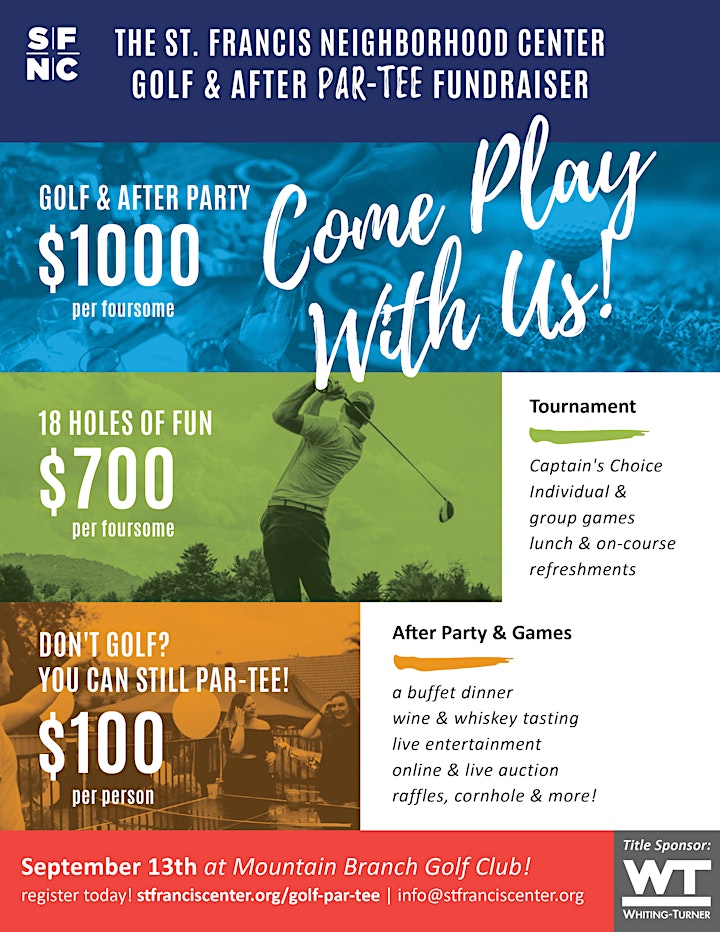 Registration Info
SHARE TOURNEY
Event is passed so you may not contact this event coordinator.