EVENT DATE
July 21, 2022
This Event Has Passed
GOLF COURSE
Vineyard National at Renault
72 N Bremen Avenue, Egg Harbor City, NJ 08215
Egg Harbor City, NJ
ENTRY PRICE
Contact Event for Price
SHARE TOURNEY
More Event Information
1st Annual D. F. Poley Golf Tournament and Dinner Banquet to Benefit Parkinson's Disease Research.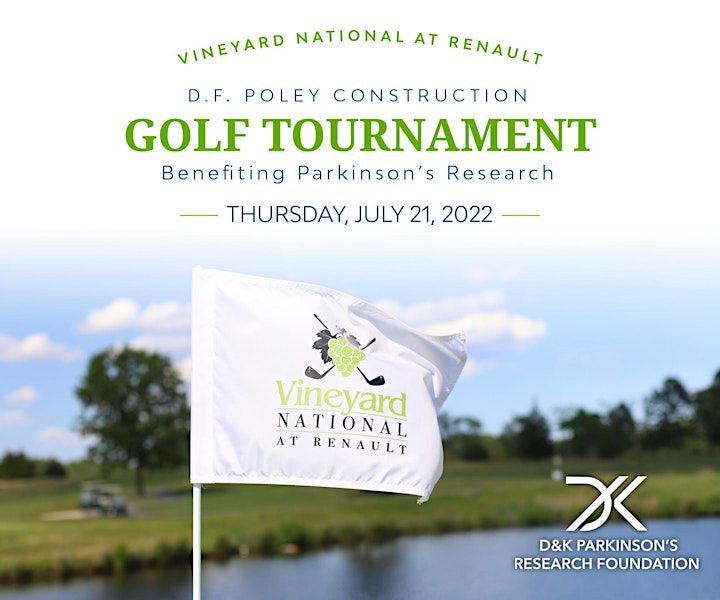 Friends,
The last two years has been an unprecedented time in our world that has undoubtedly impacted each and every one of us. For my family and I, our world was impacted in December of 2019 when I was diagnosed with Parkinson's Disease. Fortunately, my diagnosis and symptoms have been manageable, and I am optimistic on the future of my progression.
Since being diagnosed, my family and I have continued to learn more about this disease, and we have become committed to making an impact in the fight against Parkinson's.
With that said, I am proud to announce that our family has founded the D&K Parkinson's Research Foundation, a 501(c) 3 charity that will work in conjunction with Michael J. Fox Foundation to further the advancements in Parkinson's Research, while raising awareness of the disease. The fight will not be easy, but I am confident that through continuous support and commitment to Parkinson's research, we will make a difference, and we will make strides to finding a cure.
This year, our inaugural year as a foundation, we are proud to be hosting the first annual D.F. Poley Construction Golf Tournament, benefitting Parkinson's Research. More information regarding this event and how to donate can be found below via the website.
To that end, I ask that you please consider supporting the D&K Parkinson's Research Foundation as we fight for the advancement in Parkinson's research. Whether through sponsorship or financial funding, your support will make a direct impact in this noble cause.
Thank you all for your time and support, and I look forward to seeing you on the road to finding a cure.
Respectfully,
Dan F. Poley
President D.F. Poley Construction, Inc.
Cofounder of D&K Parkinson's Research Foundation
WWW.DKPDresearch.com
D&K Parkinson's Research Foundation EIN # 87-3774606
Golf Tournament ($200/person includes Dinner Banquet)
Golfers: 1pm Shotgun Start – Please arrive by Noon to register.
Each golfer will receive a T-Shirt, bagged lunch, FREE beverages on course and a chance to win a New Scotty Cameron Putter with Putting Contest.
*Silent Auction will have Phillies/76ers/Eagles/Flyers Tickets and More!
Banquet Buffet Dinner (Dinner only $65/person)
Starting at 6pm
– Representative from the Michael J. Fox Foundation
– Awards Ceremony
– Live Acoustic Band
Registration Info
This event does not utilize the GolfTourney Platform to Register their event participants. Feel free to use the contact form at the bottom of this page or find the event coordinators contact info in the More Event Information section and give them a call.
SHARE TOURNEY
Event is passed so you may not contact this event coordinator.