SUMMARY
The Grand Lodge Golf Outing 2023 is a Unspecified format golf tournament. It is located at The Legacy Golf Club in the fine city of Phoenix, AZ. The event is set to play on September 10, 2023. MORE INFO
EVENT DATE
September 10, 2023
GOLF COURSE
The Legacy Golf Club
6808 South 32nd Street, Phoenix, AZ 85042
Phoenix, AZ
ENTRY PRICE
Contact Event for Price
SHARE TOURNEY
More Event Information
Come out and play in the Grand Lodge golf outing supporting G.L.O.A.F. Sunday, September 10 at The Legacy Golf Resort in Phoenix.
Grand Lodge Golf Outing
Join us for our annual fun-filled day of golf as we hit the links for a day of friendly competition, fun, and camaraderie! Golfers of all skill levels are welcome to play in the annual Grand Lodge golf outing.
4-Player Scramble
Open To The Public, Men & Women
Low Pressure Environment
Register as a single golfer and be paired together -OR-
Bring your best team of 4!
WHERE: The Legacy Golf Resort – 6808 S. 32nd St., Phoenix, AZ 85042
WHEN: Sunday, September 10, 2023 Registration: 6:30 AM | Shotgun Start: 7:30 AM
COST: $125/ per golfer | $500 per 4-some | $50 Lunch Only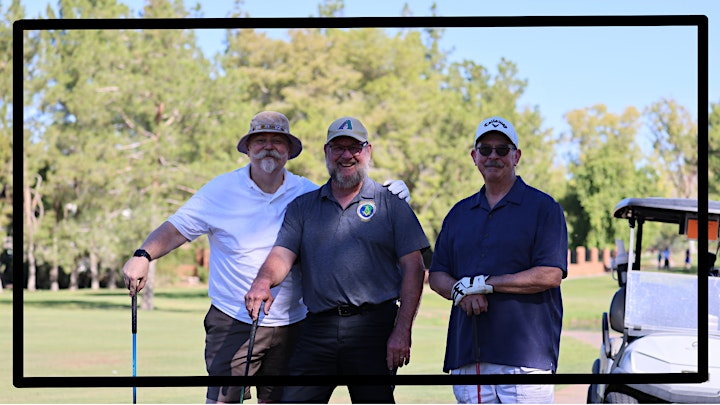 Golfers entry fee includes:
Golf, Cart, Taxes, and Range Balls
Southwest Texas BBQ
One Free Beverage Ticket per Golfer
Automatically entered in all on-course contests
Automatically entered in pre-round putting contest
Automatically entered in post-round raffle
Automatically entered in the $10,000 Hole-In-One Contest
Contest Holes Includes:
Longest Drive, Straightest Drive, Longest Putt
2 X Closest to Pin
Grand Master's Challenge Hole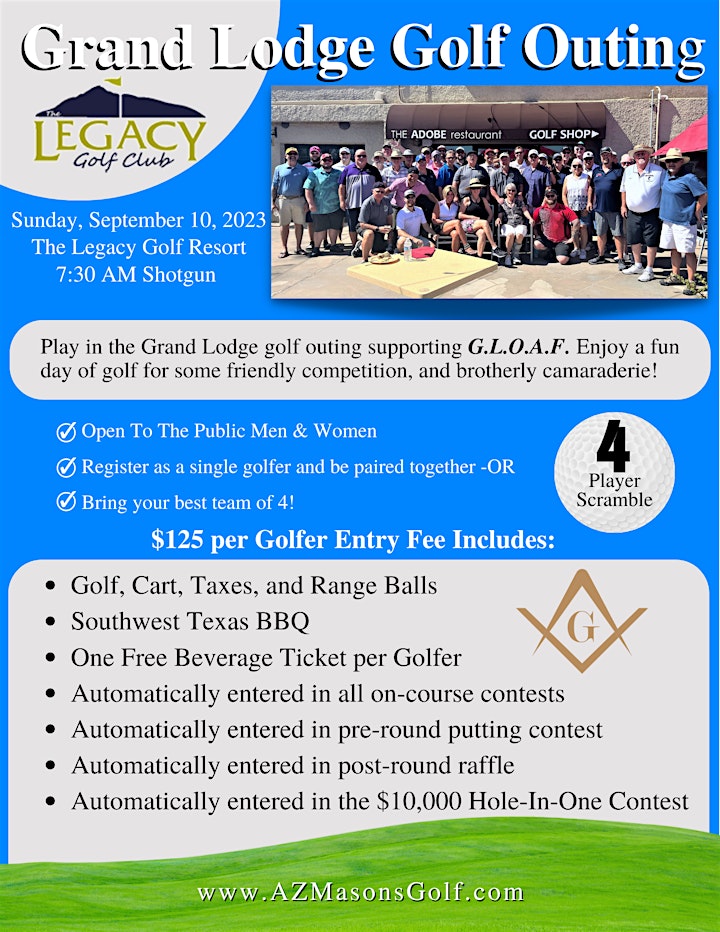 Sponsorship Opportunities
Presenting Title Sponsor – $3,500 (1 available)
8 Golfers
Logo on Step-and Repeat at registration red carpet photo-op
Most prominent area for name and branding on digital scoring website
May set-up a table and/or canopy on course to promote your company at a designated tee box
Recognition and speaking opportunity at Post Tournament Awards Luncheon
$10,000 Hole-in-One Sponsor – $3,000 (1 available)
4 Golfers
Logo on Step-and Repeat at registration red carpet photo-op
Prominent area for name and branding on digital scoring website
May set-up a table and/or canopy on course to promote your company at a designated tee box
Acknowledgement at Post Tournament Awards Luncheon
Pop-Up Display Flag at Contest Hole
Pre-round Putting Sponsor – $2,000 (1 available)
Logo on Step-and Repeat at registration red carpet photo-op
Prominent area for name and branding on digital scoring website
May set-up a table and/or canopy on course to promote your company at a designated tee box
Recognition at Post Tournament Awards Luncheon
Pop-Up Display Flag at Pre-round Putting Contest
Drink Sponsor – $1,000 (1 available)
Each Golfer receives 1 free drink ticket courtesy of you!
Name and branding on digital scoring website
Recognition at Post Tournament Awards Luncheon
Contest Hole Sponsor – $500 (5 available)
Longest Drive, Closest to Pin, Longest Putt, Straightest Drive, Guess-4-Green Tee Count
Name and branding on digital scoring website
Recognition at Post Tournament Awards Luncheon
Tee Box sign at contest hole
Tee Box Sponsor – $200 (1 available)
Name and branding on digital scoring website
Tee Box sign at contest hole
Registration Info
SHARE TOURNEY