SUMMARY
The Psi Mu Nu Annual Golf Tournament is a Unspecified format golf tournament. It is located at Magnolia Point Golf and Country Club in the fine city of Green Cove Springs, FL. The event is set to play on September 3, 2021. MORE INFO
EVENT DATE
September 3, 2021
This Event Has Passed
GOLF COURSE
Magnolia Point Golf and Country Club
3670 Clubhouse Drive, Green Cove Springs, FL 32043
Green Cove Springs, FL
ENTRY PRICE
Contact Event for Price
SHARE TOURNEY
More Event Information
The Psi Mu Nu Chapter of Omega Psi Phi Fraternity, Inc. and Uplift In Action Foundation partner up to present our annual golf tournament.
The Psi Mu Nu Chapter of Omega Psi Phi Fraternity, Inc. and the Uplift in Action, Inc. Foundation sincerely thank you for your support of the annual Scholarship Golf Tournament. As we embark on our first annual event, we are thrilled and excited for your participation. The tournament will be held on Friday, September 3rd 2021 at Magnolia Point Golf and Country Club in Green Cove Springs, FL. Funds generated from our event assist in providing service programs and scholarships for youth and families in our area. "Scholarship" is one of our fraternity's four (4) cardinal principles. As such, our Chapter seeks to help improve the lives of youth and families in our community. Our Chapter partners with local schools to mentor young males so they reach their greatest potential. We seek your support so we can continue these worthwhile and much needed endeavors. Thank you in advance for your consideration and hopefully continued support in this endeavor.
For more information contact:
Vincent Foster (904) 655-9803
Johnson Joseph (954) 549-6058
Eric Holsey (619) 804-8829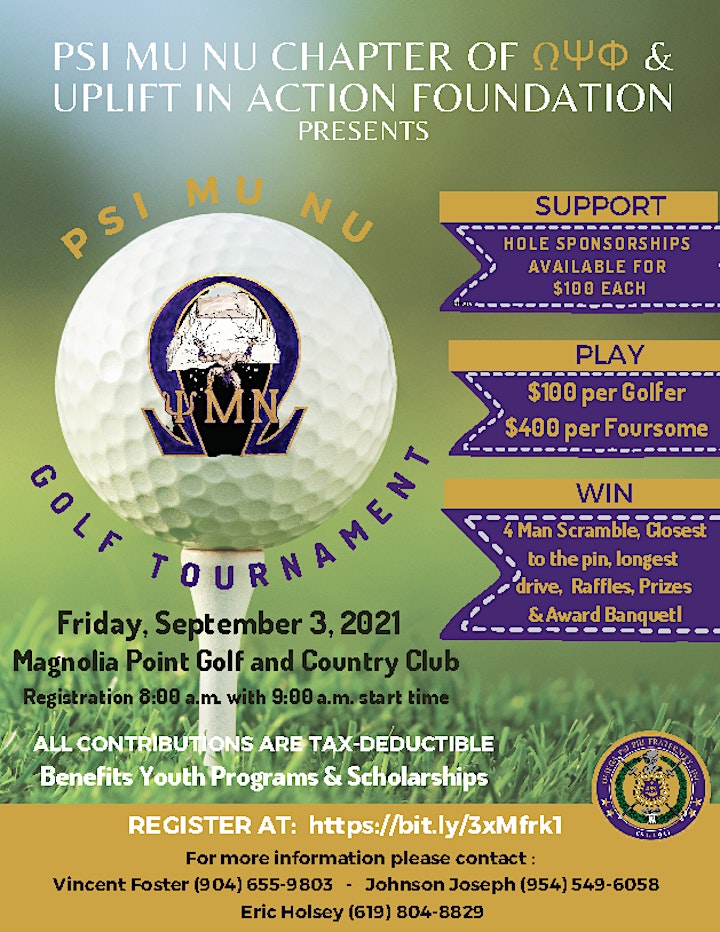 Registration Info
SHARE TOURNEY
Event is passed so you may not contact this event coordinator.