SUMMARY
The TBFOSA 2nd Annual Golf Tournament is a Unspecified format golf tournament. It is located at SilverHorn Golf Club in the fine city of San Antonio, TX. The event is set to play on September 30, 2022. MORE INFO
EVENT DATE
September 30, 2022
This Event Has Passed
GOLF COURSE
SilverHorn Golf Club
1100 West Bitters Road, San Antonio, TX 78216
San Antonio, TX
ENTRY PRICE
Contact Event for Price
SHARE TOURNEY
More Event Information
Join us at the 2nd Annual Golf Tournament hosted by The Boule Foundation of San Antonio, Inc.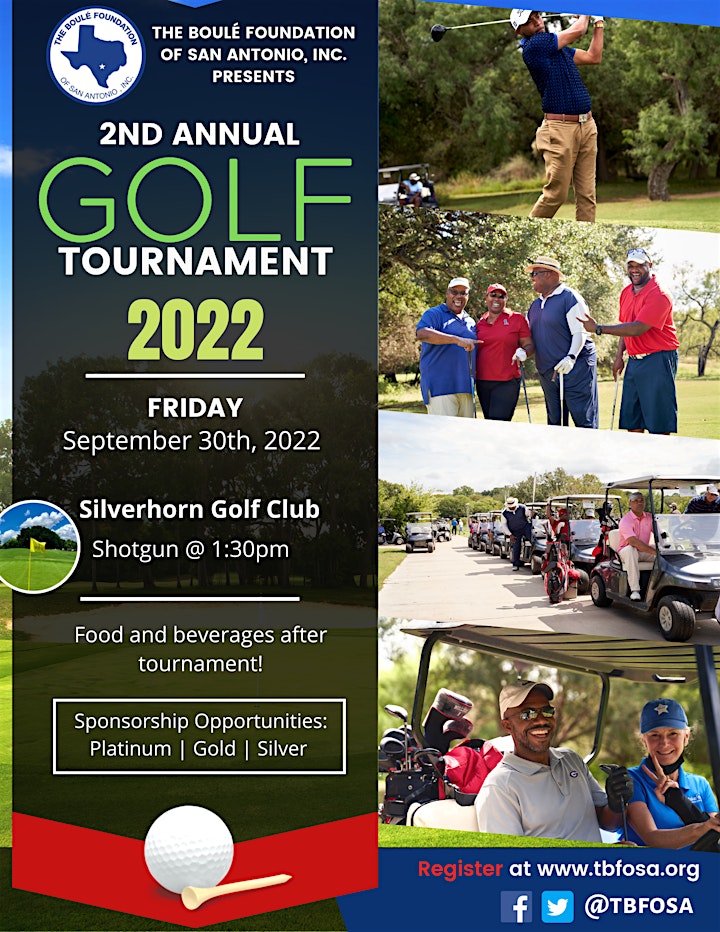 You are invited to participate in our Annual Golf Tournament, which is held in September, at the Silver Horn Golf Course in San Antonio, TX. This year's inaugural event was a great success and proceeds will continue to go towards the development of youth education, leadership and mentorship programs and as well as community outreach.
Place: Silver Horn Golf Club
Date: September 30, 2022
Time of Event: 1:30 PM Shotgun Start
Check-in and practice: 12:00pm
Awards: 6:30pm
Food and Beverages available!
Visit tbfosa.org for more info and to register!
​Please join us!
Registration Info
This event does not utilize the GolfTourney Platform to Register their event participants. Feel free to use the contact form at the bottom of this page or find the event coordinators contact info in the More Event Information section and give them a call.
SHARE TOURNEY
Event is passed so you may not contact this event coordinator.