SUMMARY
The 17th Annual C5 Texas Golf Classic is a Unspecified format golf tournament. It is located at Las Colinas Country Club in the fine city of Irving, TX. The event is set to play on October 9, 2023. MORE INFO
EVENT DATE
October 9, 2023
GOLF COURSE
Las Colinas Country Club
4400 North O'Connor Road, Irving, TX 75062
Irving, TX
ENTRY PRICE
Contact Event for Price
SHARE TOURNEY
More Event Information
Join Us For a Fun Day of Golf Benefiting C5 Texas at Las Colinas Country Club on Monday, October 9, 2023.
The 17th Annual C5 Texas Golf Classic will be held on Monday, October 9, 2023 at Las Colinas Country Club. We are excited to have another great day out on the golf course with fun activities this year! Your participation and sponsorship will directly benefit the C5 Texas Leaders in our program.
Come celebrate 20 years of community impact at this years C5 Golf Tournament.
October 9, 2023, 9 am shotgun start at Las Colinas Country Club
Fun activities and special celebrity interactions
After the pandemic, we have seen a significant increase in demand for C5's unique leadership development program. In fact, this year we had 243 high-quality applicants, but accepted only 55 young leaders due to funding restrictions. This is where you and your company can make a difference! By supporting this year's tournament you can help us extend our impact to more young leaders and in turn more communities across North Texas.
The mission of the C5 Texas is to inspire high potential youth from risk-filled environments to pursue personal success, to prepare them for leadership roles in college, work and community, and to motivate them to become role models for others.
As one of a few middle-school focused leadership programs in the DFW area, we are helping young people who'll be the first in their families to attend college, gain the skills needed to not only change their trajectory, but have a lasting impact in their communities.
FOR SPONSORSHP & TICKET INFORMATION PLEASE VISIT-
https://c5texas.networkforgood.com/events/55378-17th-annual-c5-texas-golf-classic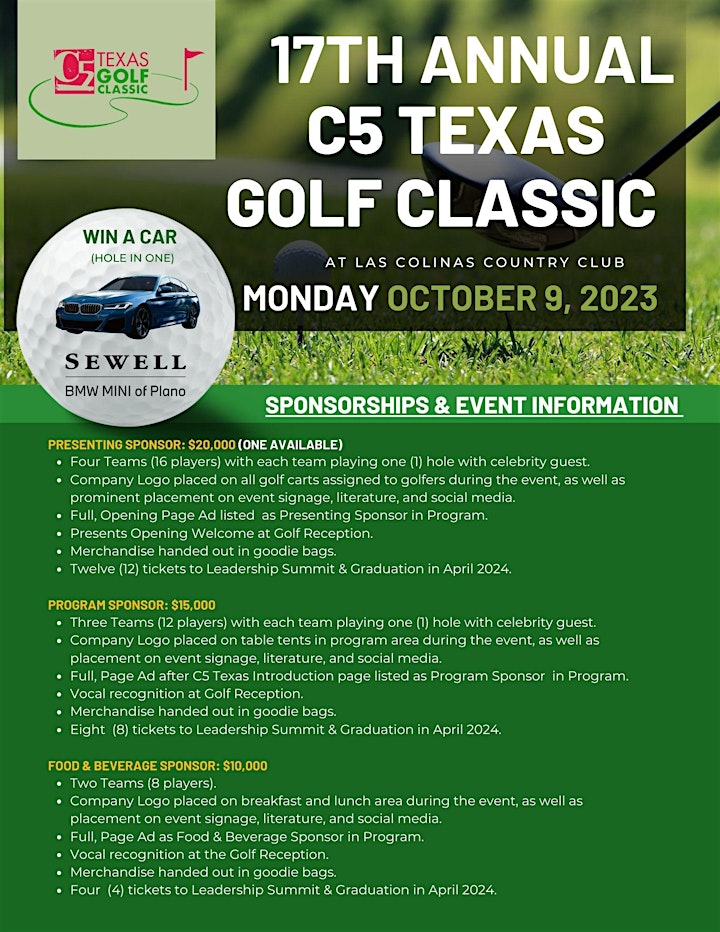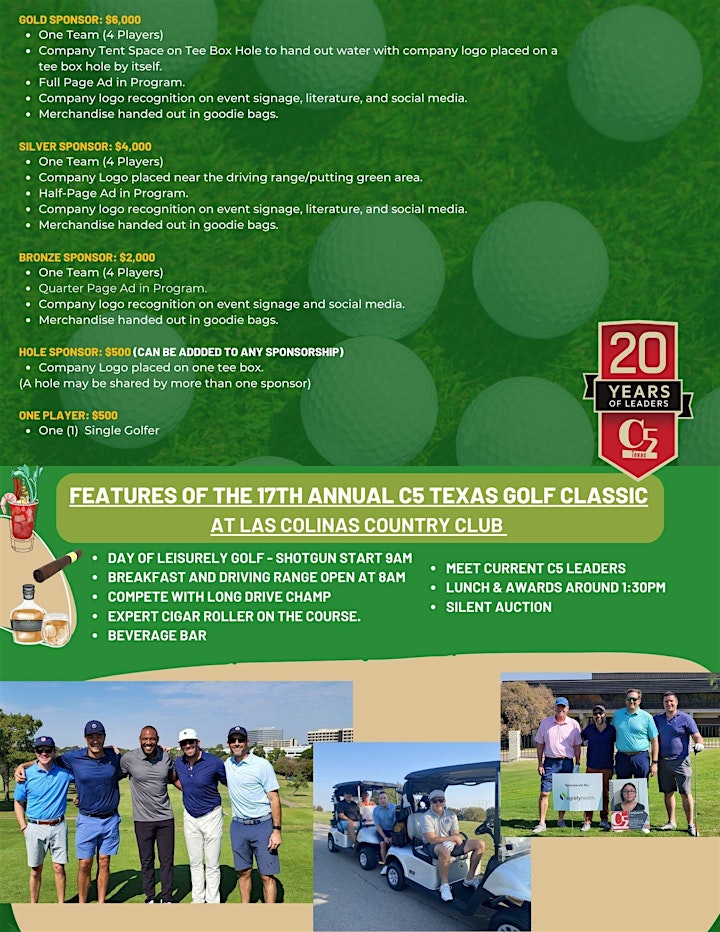 Registration Info
SHARE TOURNEY