EVENT DATE
September 13, 2022
This Event Has Passed
GOLF COURSE
Atlanta National Golf Club
350 Tournament Players Drive, Milton, GA 30004
Milton, GA
ENTRY PRICE
Contact Event for Price
SHARE TOURNEY
More Event Information
DADS ON THE GREEN – Celebrity Golf Tournament is an annual fundraiser by Fathers Incorporated. For more visit www.fathersincorporated.com
Fathers Incorporated is hosting a celebrity golf tournament entitled "Dads on The Green" on September 13, 2022, at the Atlanta National Golf Course located at 350 Tournament Players Drive, Milton, GA 30004. We invite you to our annual fundraiser and join us with event ambassadors Dorsey Levens, NFL Superbowl Champion; Dennis Scott, 3X NBA All-Star; and T-Mo from Goodie Mob.
Fathers Incorporated is the #1 trusted authority in the fatherhood field and serves as a leader in the field of Responsible Fatherhood. Our mission is to engage, equip, and empower a community network of fathers and their families by creating an environment of support, parental education, and positive societal narratives.
Monies raised will be used to fund Fathers Incorporated flagship programs that seek to actively and diligently involve fathers in the lives of their children through a variety of programs, activities, and trainings. For more information about our programs, please visit www.fathersincorporated.com.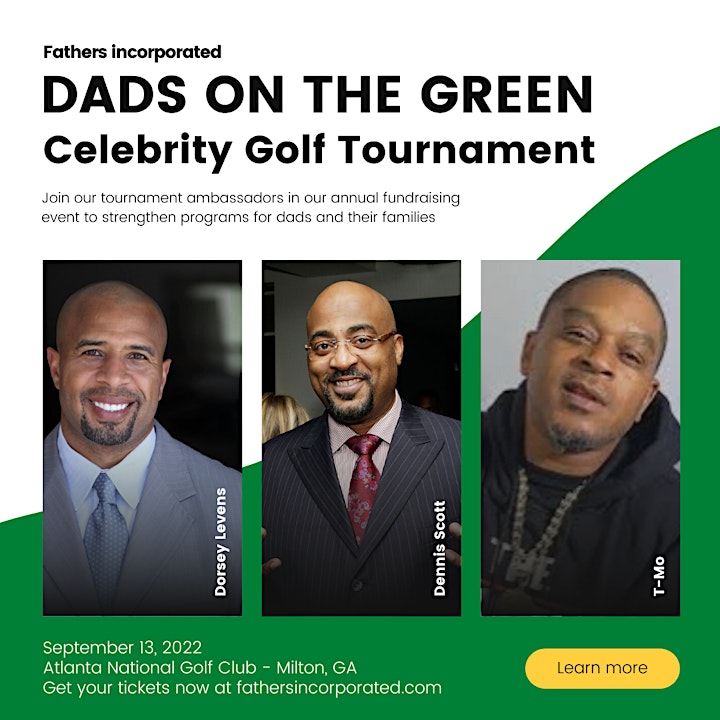 Registration Info
This event does not utilize the GolfTourney Platform to Register their event participants. Feel free to use the contact form at the bottom of this page or find the event coordinators contact info in the More Event Information section and give them a call.
SHARE TOURNEY
Event is passed so you may not contact this event coordinator.