EVENT DATE
July 29, 2021
This Event Has Passed
GOLF COURSE
Bunker Hills Golf Club
12800 Bunker Prairie Road Northwest, Coon Rapids, MN 55448
Coon Rapids, MN
ENTRY PRICE
Contact Event for Price
SHARE TOURNEY
More Event Information
20th Annual Northern Voices Golf Classic – 2021
20 Years of Golf!
We cannot wait to celebrate this accomplishment with you at Bunker Hills.
We are excited to have you join us, in a safe and socially distanced way, at beautiful Bunker Hills for the 20th Annual Northern Voices Golf Classic. Registration starts at 11am, pick up a box lunch and we will have a shot gun start at 12 noon. Return to the tent for social hour, then a BBQ dinner with parent testimonials and awards ceremony.
You don't need to be a golf pro to participate. There will be some friendly competition, fun contests and you must stop by to talk with one of our current students at the lemonade stand!
Northern Voices is a non-profit school for children with hearing loss. Established in 1999, the school teaches listening and spoken language skills to children with hearing aids and cochlear implants. Our children are ordinary kids working extraordinarily hard to catch and surpass their hearing peers. We are only able to offer this opportunity for learning to them because of support from others. Thank you.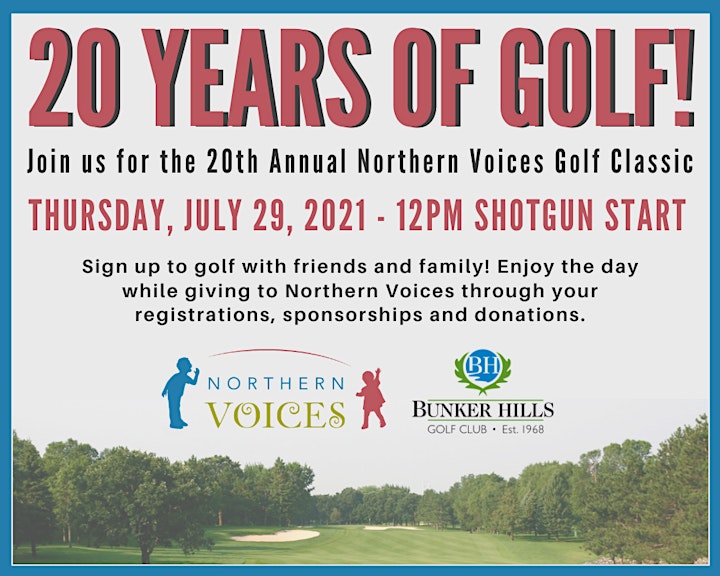 Registration Info
This event does not utilize the GolfTourney Platform to Register their event participants. Feel free to use the contact form at the bottom of this page or find the event coordinators contact info in the More Event Information section and give them a call.
SHARE TOURNEY