EVENT DATE
May 22, 2023-September 12, 2023
This Event Has Passed
GOLF COURSE
Pelham Bay and Split Rock Golf Courses
870 Shore Road, The Bronx, NY 10464
The Bronx, NY
ENTRY PRICE
Contact Event for Price
SHARE TOURNEY
More Event Information
Bellas Fashionistas 2nd Annual Golf Outing Tournament & Awards Dinner
Join us for our 2nd Annual Iconic Latina Golf Outing event in the State of New York where Latina leaders gather for a day in the golf course, network with professionals and their mentees! 
This iconic and past time event will gather Latinas across the States where the mentees will meet and network with various Latina leaders that look like them who have achieved success.
This year Bellas Fashionistas will be honoring the achievements of prominent Latinas known as some of the top leading trailblazers that are paving the way for the next generations of Latinas. This year's honorees are: Marcela Miguel Berland, Founder & CEO of Latin Insights, Helen Arteaga-Landaverde, PhD., CEO of NYC Health & Hospital Elmhurst, Raquel Tamez, Chief Inclusion & Engagement Officer at Charles River Associates and Meiling Macias-Toro, Co-Founder + Partner and Executive Producer at Freedom Studios, Inc.
Attendees will have the honor of having a special live performance by singer, song writer and activist, Sophia Angelica. This year's keynote speaker is Elizabeth Velez, President + Principal of the Velez Organization.
Bellas Fashioinistas has been amplifying the voice of successful Latinas through its YouTube channel, Bellas FashionistasTV, and now through its Bellas Quotes campaign. The goal is to change the narrative of the Latina women, provide access to opportunities and assist our youth become women of value, principles and know their self-worth. Our goal is to amplify the voice of the Latina women throughout our pillars: Bellas FashionistasTV, Bellas Empower (Educational) Pillar, Bellas Bridging Opportunities, and Bellas Business Corner by fostering mentoring programs that will assist in providing a positive change in their lives through economic empowerment, leadership development, and social programs.
Bellas 2nd Annual Latina Golf event is an amazing opportunity to fellowship with other mentees and mentors.
The event will take place on Tuesday, September 12, 2023 at the Pelham Bay and Split Rock Golf Course located at 870 Shore Road, Bronx, NY. 10464
The day will kick off at 12p.m. with a delectable lunch accompanied by a live conversation with several high powered and well known Latina leaders. Followed by a day of golf then transitioning over for a night of dinner and awards. This event will be benefiting Bellas Philanthropic Efforts: Bellas Teen Summit.
Register by September 5, 2023.
*Sponsors MUST submit Polo sizes and Ads by September 5, 2023.
Enjoy contest, prizes, and raffles!
10:30AM – 11:30AM: Golf Clinic
12:00PM: Registration & Lunch
1:30PM: Shotgun
6:30PM: Cocktail & Networking
7:30PM: Dinner & Awards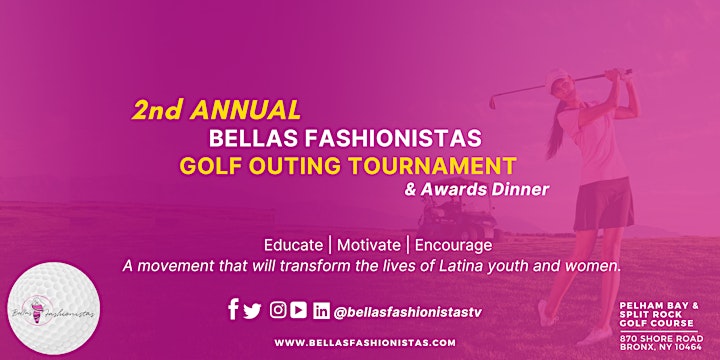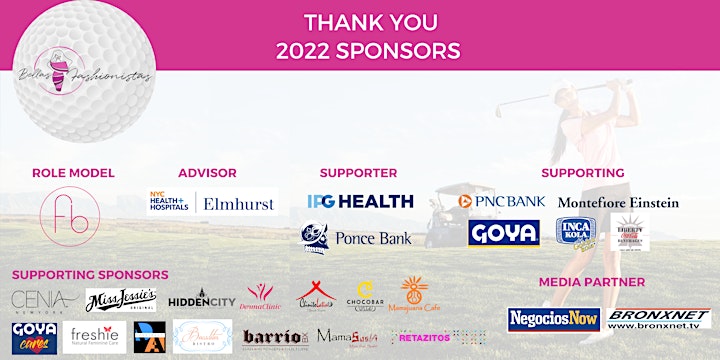 Registration Info
SHARE TOURNEY