EVENT DATE
March 31, 2023
This Event Has Passed
GOLF COURSE
Squaw Valley Golf Course
U.S. 67, Glen Rose, TX 76043
Glen Rose, TX
ENTRY PRICE
Contact Event for Price
SHARE TOURNEY
More Event Information
The Texas Game Warden Association 2nd Annual Ty Patterson Memorial Golf Tournament at Squaw Valley Golf Course March 31, 2023
2nd Annual Ty Patterson Memorial Golf Tournament
We lost Ty in May of 2007, when he and another Game Warden were trying
to recover a drowning victim from the merciless waters of the Paluxy River,
in Somervell County, Texas. During the recovery their boat capsized, and Ty
risked his own life and put himself in harms way to save the life of his
partner. Ty's actions that day will never be forgotten and his dedication to
duty and service to the people of the State of Texas will eternally be the
example for all to follow. Ty served honorably for 2 years as the Texas Game
Warden in Johnson County, Texas.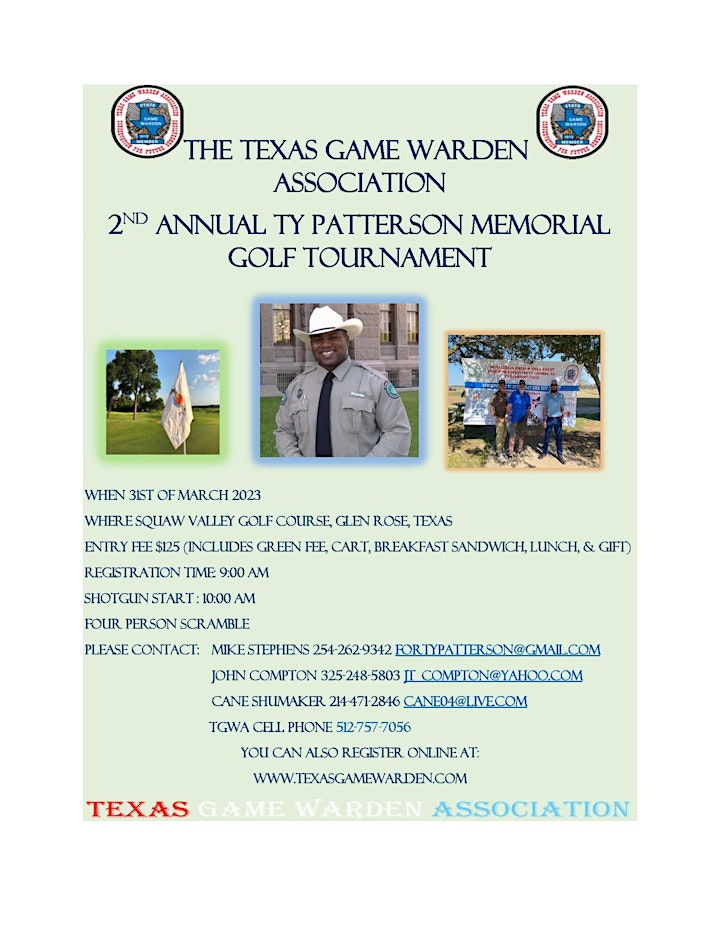 Registration Info
SHARE TOURNEY