SUMMARY
The Charity Golf Tournament is a Charity format golf tournament. It is located at Mt Mitchell Golf Club in the fine city of Burnsville, NC. The event is set to play on September 11, 2022. MORE INFO
EVENT DATE
September 11, 2022
This Event Has Passed
GOLF COURSE
Mt Mitchell Golf Club
11484 North Carolina 80, Burnsville, NC 28714
Burnsville, NC
ENTRY PRICE
Contact Event for Price
SHARE TOURNEY
More Event Information
Annabelle's Haven is hosting golf tournament on September 11 from 12:30 -5:30 pm at Mount Mitchell Golf Club.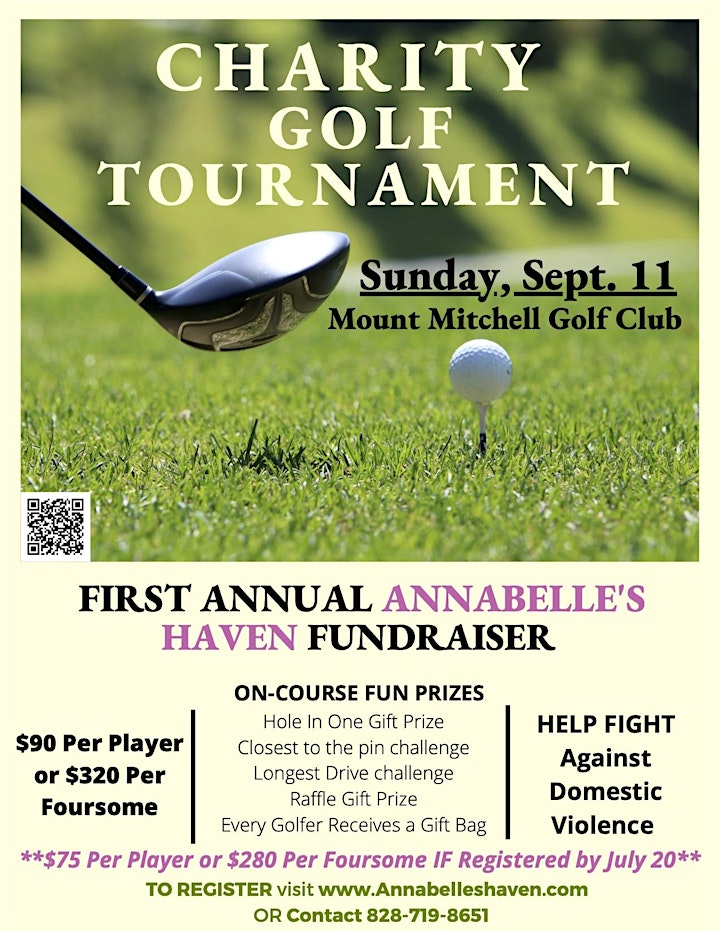 Come Join us September 11 for a charity golf tournament at Mount Mitchell Golf Club for a fun filled day! All proceeds and donations will always go to Annabelle's Haven. A transitional housing program that helps educate women and children for a brighter tomorrow. Our organizations sole focus is to serve women and children victimized by domestic violence.
Registration Info
This event does not utilize the GolfTourney Platform to Register their event participants. Feel free to use the contact form at the bottom of this page or find the event coordinators contact info in the More Event Information section and give them a call.
SHARE TOURNEY
Event is passed so you may not contact this event coordinator.