SUMMARY
The Helpline Open is a Unspecified format golf tournament. It is located at Willow Run Golf Course in the fine city of Sioux Falls, SD. The event is set to play on July 18, 2022. MORE INFO
EVENT DATE
July 18, 2022
This Event Has Passed
GOLF COURSE
Willow Run Golf Course
8000 East Highway 42, Sioux Falls, SD 57110
Sioux Falls, SD
ENTRY PRICE
Contact Event for Price
SHARE TOURNEY
More Event Information
The Helpline Open golf tournament is a 4-person scramble that raises funds for our suicide prevention and crisis support programs.
We hope you'll join us on Monday, July 18, 2022 for the Helpline Open golf tournament. Our tournament will once again be held at the Willow Run Golf Course and it's a 4 person scramble designed to be competitive and fun for all. Golf begins with a shotgun start at noon and we encourage all golfers to stick around for a social and banquet after their round.
The cost to participate is $500 for a team and $125 for an individual. All the funds raised from the Helpline Open tournament support the suicide prevention and crisis support programs offered through the Helpline Center.
If you have any questions about the event, please reach out to our Events Coordinator at (605) 274-1418 or by email at Contact event using the form below..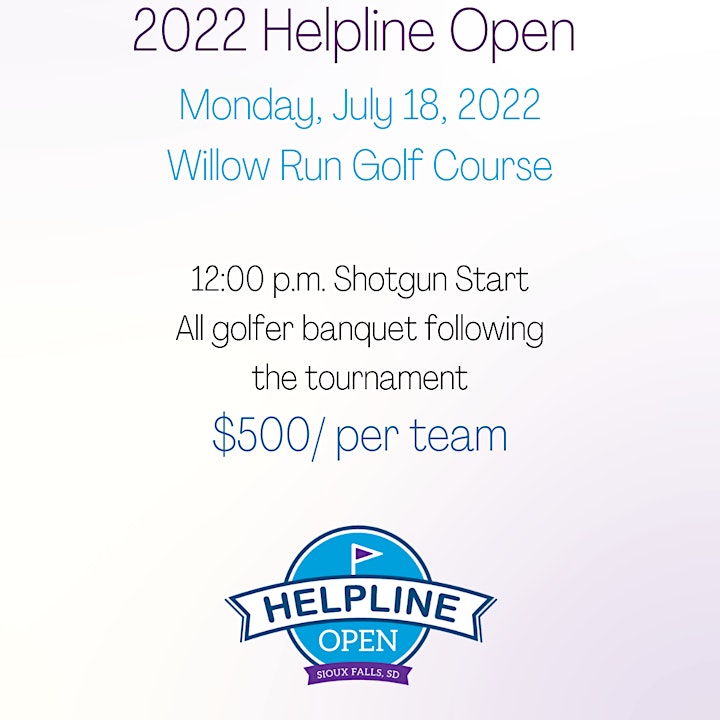 Registration Info
This event does not utilize the GolfTourney Platform to Register their event participants. Feel free to use the contact form at the bottom of this page or find the event coordinators contact info in the More Event Information section and give them a call.
SHARE TOURNEY
Event is passed so you may not contact this event coordinator.