SUMMARY
The UACC Golf Tournament 2021 is a Unspecified format golf tournament. It is located at Stonebridge Golf Club in the fine city of West Valley City, UT. The event is set to play on August 28, 2021. MORE INFO
EVENT DATE
August 28, 2021
This Event Has Passed
GOLF COURSE
Stonebridge Golf Club
4415 Links Drive, West Valley City, UT 84120
West Valley City, UT
ENTRY PRICE
Contact Event for Price
SHARE TOURNEY
More Event Information
The Utah Asian Chamber of Commerce, is hosting their Seventh Annual Golf Tournament on Saturday August 28. 2021 at Stonebridge Golf Course
The Utah Asian Chamber of Commerce partnered with the Utah Asian Charitable
Foundation, 501(c)(3), is hosting our Seventh Annual Golf Tournament on Saturday,
August 28, 2021 at Stonebridge Golf Course, 4415 Links Dr, West Valley City, UT
84120 at 7:00 am Registration, 8:00 am Shotgun.
The golf tournament is to benefit our Asian students and young entrepreneurs by
developing tech programs that will enhance their technical and social skills. These
programs will help connect them to Utah's entrepreneur and Tech landscape.
We would like to cordially invite you and your company to become one of our
tournament sponsors or join as players individually or as a foursome. As a golf tournament sponsor your company logo will be
displayed on the course, recognized during the award program, and network with
guests and members of the Utah Asian Chamber of Commerce.
Please refer to the attached sponsorship level describing all the inclusions and
benefits of being a sponsor.
We genuinely express our gratitude in advance for your support and willingness to
be part of the UACC and UACF's Seventh Annual Golf Tournament.
Sincerely,
Yvonne Tran-Estrada – Golf Chair
Eunice Lane – UACC / UACF Chair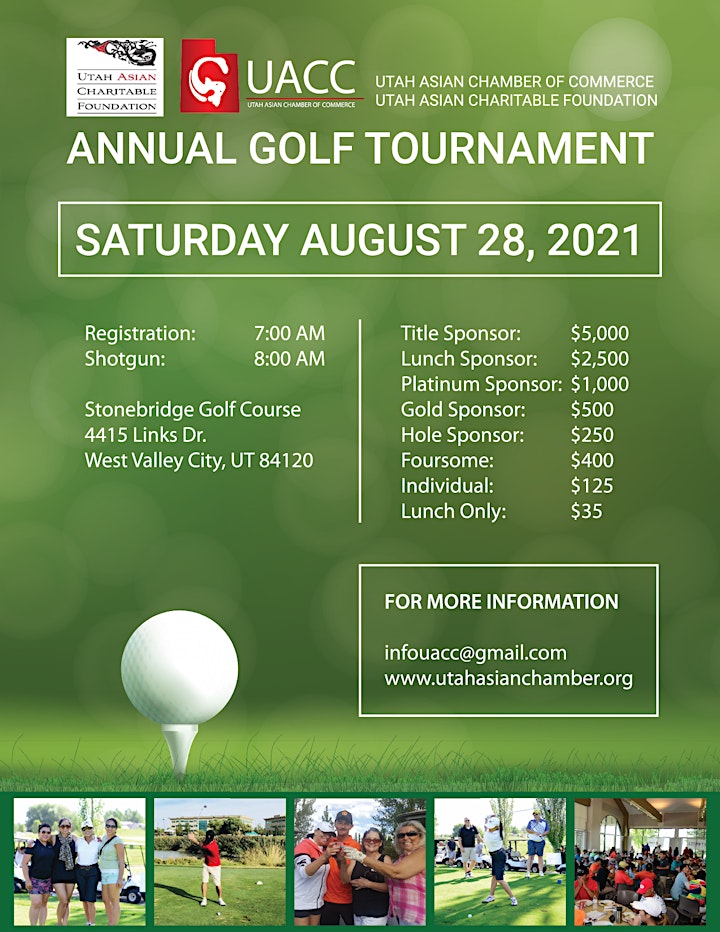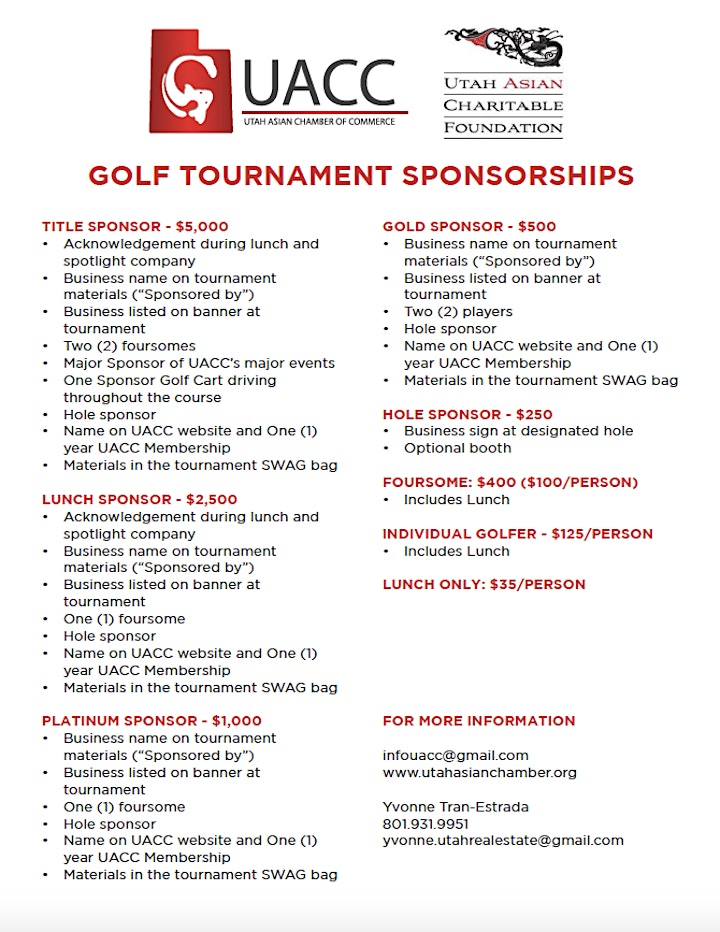 Registration Info
SHARE TOURNEY
Event is passed so you may not contact this event coordinator.